Links to Other Don Ellis Resources
---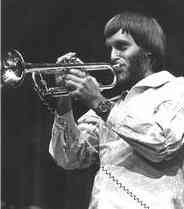 The Don Ellis Info Sheet
This is the grandfather of web-based information on Don Ellis presented by Ellis fan Gordon McGonigal. Lots of great information is included, including albums under Ellis's own name, other albums Ellis played on, albums of related interest, Ellis's Movie/TV score list, books Ellis published, etc.

The Don Ellis Critical Editions
Russell Scarborough – a former classmate of mine from Towson University – is working closely with Ellis scholar Nick DiScala to deliver The Don Ellis Critical Editions. At this time, "Strawberry Soup" is available and other selections such as "Open Wide," "KC Blues," "Whiplash," "A New Kind of Country," and "Image of Maria" are being prepared. I used the "Strawberry Soup" critical edition extensively for musical examples in the analysis section of my dissertation.
Don Ellis Charts on UNC Jazz Press
UNC Jazz Press is a non-profit enterprise operated by the University of Northern Colorado as outreach and service to the global jazz and jazz education communities, and supports the mission of the UNC Jazz Studies Program. The link above is to the UNC Jazz Press page on their website that lists all of the Don Ellis charts available for sale from their organization.
Don Ellis Recordings on Amazon.com
Don Ellis Artist Page on Amazon.com, including: Top Albums by Don Ellis, MP3 Downloads, Discussions, and Customer Reviews.
This site is an excellent resource, and includes brief biographical information along with extensive discography-related information.
The Don Ellis Information Site
This tribute site – managed by Ellis fan Todd Fronauer – is also dedicated to the life and music of Don Ellis. Todd provides very interesting and compelling reviews of all the Ellis recordings, in addition to photos, links, etc.
Electric Heart – The Don Ellis Story
Electric Heart – The DonTo clear until mascara NEVER condition would wonderfully difference.
Ellis Story is a feature-length documentary film producer-writer-director, John Vizzusi.