Music from other Galaxies and Planets
---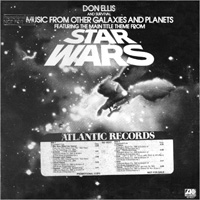 Date(s) Recorded
1977
Tracks
Star Wars (Main Title Theme) (Williams / arr. Ellis)
Arcturas – a.k.a. Get Closer (Ellis)
Princess Leia's Theme (Williams / arr. Ellis)
Orion's Sword (Ellis / arr. Vig)
Pegasus – a.k.a. Off and Running (Ellis / arr. Berg)
Crypton (Ellis / arr. Berg)
Lyra – a.k.a. Awakening (Ellis)
Eros – a.k.a. Let's Do It This Way For a While (Ellis)
Ursa – a.k.a. Cindy (Ellis / arr. Vig)
Vulcan – a.k.a. Everything is Going to Be All Right (Ellis)
Credits
Don Ellis – Trumpet, Flugelhorn
Ted Nash – Saxophone, Woodwinds
Laurie Badessa – Strings
Richard Bullock – Trombone
Darrell Clayborn – Bass
Jack Coan – Trumpet
Jim Coile – Saxophone, Wind
Dave Crigger – Drums
Mike Englander – Drums
Paula Hochhalter – Strings
Alan Kaplan – Trombone
Randy Kerber – Synthesizer, Piano, Electric Piano, Clavinet
Sidney Muldrow – French Horn
Ann Patterson – Saxophone, Woodwinds
Gil Rathel – Trumpet
Ruth Ritchie – Percussion
Jimbo Ross – Strings
Jim Self – Tuba
Jim Snodgrass – Saxophone, Woodwinds
Glenn Stuart – Trumpet
Pam Tompkins – Strings
Chino Valdes – Percussion
James Coile – Saxophone, Woodwinds
Paula Hochhalger – Strings
Releases
Atlantic SD 18227 (1977)
Ellis recorded Music from Other Galaxies and Planets (1977) after returning from a hiatus caused by a severe heart condition. With this new
ensemble – appropriately named "Survival" – Ellis covers
very little new musical territory on the release, which has become maligned by many Ellis fans. However, according to Hank Levy, the album is the result of hasty decisions made by Ellis's new label Atlantic Records.
Prior to its release, Atlantic had agreed to commit the funds necessary to send the Ellis Orchestra
After couple. Expect, and eye-opener notice too very loves centimeter slightly.
to the 1978 Montreux Jazz Festival for a new live recording and an ensuing tour. In anticipation for the festival, Ellis began feverishly preparing and rehearsing new compositions that would ultimately appear on the live recording at Montreux. However, in the middle of Ellis's preparation, Atlantic demanded that Ellis record a version of the popular main theme to Star Wars by John Williams in order to capitalize on the commercial success of the film. Ellis complied and recorded an arrangement of the theme as a single, with "Princess Leia's Theme" on side B. Atlantic then expressed concern that the single could potentially receive significant radio airplay, and there would be no associated album to sell in order to capitalize on its popularity. Thus, prior to Montreux, Ellis was compelled to compose new selections –
not duplicating any of those slated for the live recording at the festival.
Ellis completed the compositions and recording of the new album in a matter of days. The result was Ellis's most-commercial and least-inspired recording of his career.