Autumn
---
Autumn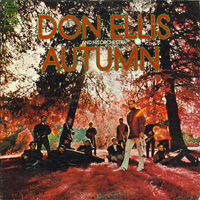 Date(s) Recorded
August 1968
Tracks
Variations for Trumpet (Ellis)
Scratt & Fluggs (Ellis)
Pussy Wiggle Stomp (Ellis)
K.C. Blues – Live (Parker / arr. Ellis)
Child of Ecstacy (Ellis)
Indian Lady – Live (Ellis)
Credits
Don Ellis Trumpet
Ira Schulman – Alto Sax
Frank Strozier – Alto Sax, Clarinet
Ron Starr – Alto
Sam Falzone – Tenor Sax, Soprano Sax, Flute, Clarinet
John Klemmer – Tenor Sax Clarinet
John Magruder – Baritone Sax, Clarinet, Bass Clarinet
Glenn Stuart – Trumpet
Stu Blumberg – Trumpet
John Rosenberg – Trumpet
Bob Harmon – Trumpet
Ernie Carlson – Trombone
Glenn Ferris – Trombone
Don Switzer – Bass Trombone
Terry Woodson – Bass Trombone
Doug Bixby – Tuba
Roger Bobo – Tuba
Pete Robinson – Piano, Clavinet, Electric Piano, Prepared Piano
Mike Lang – Piano, Claviniet, Electric Piano
Ray Neapolitan – Bass
Dave Parlato – Bass
Ralph Humphrey – Drums
Gene Strimling – Drums, Percussion
Lee Pastora – Conga
Mark Stevens – Vibes, Percussion
Liner Notes
Al Kooper
Releases
Columbia CS 9721 (1968)
Notes
"Indian Lady" and "K.C. Blues" recorded live at Stanford University.
The Ellis Orchestra's 1968 release, Autumn, is a studio album, but includes live performances of Ellis's "Indian Lady" and Charlie Parker's "K.C. Blues." The Grammy-nominated Autumn features "Variations for Trumpet," which demonstrates a growing sophistication of Ellis's compositions for big band. The work runs for nearly 20 minutes. "Variations for Trumpet" is divided into six sections, each with its own exotic time signature including a section with an additive construction of 32/8.
The album's
other feature is a 18-minute live recording of "Indian Lady," which reflects the Ellis Orchestra's maturity as a performing ensemble through its expansion of the composition and the raw energy of the performance. Autumn also presents excellent examples of "straight ahead" exotic meters in the improvisation sections of "Pussy Wiggle Stomp" and "Scratt and Fluggs."
As a result of the tragic death of Ellis's prodigious drummer Steve Bohannon after the recording of Shock Treatment, Autumn also represents the first recording with Bohannon's replacement, Ralph Humphrey. Humphrey became a staple of Ellis's rhythm section until 1973.