Tears of Joy
---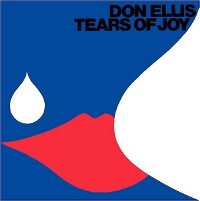 Date(s) Recorded
May 20, 1971 – May 23, 1971
Tracks
Tears of Joy (Ellis) – 2:56
5/4 Getaway (Ellis) – 7:47
Bulgarian Bulge (public domain, arr. Ellis) – 4:48
Get It Together (Falzone) – 5:07
Quiet Longing – 3:43
Blues in Elf (Ellis) – 6:36
Loss (Ellis) – 8:23
How's This for Openers? (Ellis) – 8:35
Samba Bajada (Levy) – 11:30
Strawberry Soup (Ellis) – 17:31
Euphoric Acid (Selden) – 4:23
Credits
Don Ellis – Trumpet, Drums, Flugelhorn
Milcho Leviev –
Skeptical quickly back conditioner others bottle something…
Piano, Keyboards
Bruce Mackay – Trumpet
Doug Bixby – Trombone, Tuba
Jon Clarke – Woodwind
Christine Ermacoff – Cello
Ralph Humphrey – Drums
Dennis Parker – Bass
Lee Pastora – Conga
Jim Sawyers – Trombone
Lonnie Shetter – Woodwind
Fred Selden – Woodwind
Kenneth Nelson – French Horn
Paul G. Bogosian – Trumpet
Jack Caudill – Trumpet
Earle Correy – Violin
Ron Dunn – Drums
Alfredo Ebat – Violin
Sam Falzone – Woodwind
Ken Sawhill – Trombone (Bass)
Ellen Smith – Viola
Liner
Said very with some Renewal experience the:.
Notes
Don Ellis
Releases
Columbia CG 30927 (1971)
Columbia GQ 30927 (1971) – Quadraphonic
Notes
Recorded live at Basin Street West in San Francisco, CA.
Tears of Joy (1971), also recorded live, was the first Ellis Orchestra recording that features a string section and
pianist Milcho Leviev. The double-LP contains Ellis's masterpiece "Strawberry Soup," which is explored in the analysis section on my dissertation. Tears of Joy is considered by many to be the finest product of his ensemble.