The New Don Ellis Band Goes Underground
---
New%20Don Ellis Band/Goes Underground/Don Ellis at F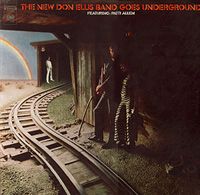 Date(s) Recorded
January 1969
Tracks
House in the Country (Kooper / arr. Ellis)
Don't Leave Me (Nilsson / arr. Ellis)
Higher (S. Stewart / arr. Ellis)
Bulgarian Bulge (public domain / arr. Ellis)
Eli's Comin' (Nyro / arr. Ellis)
Acoustical Lass (Ellis)
Goood Feelin' (Ellis)
Send My Baby Back (Marbray, Hewitt / arr. Ellis)
Love for Rent (Selden)
It's Your Thing (Isley, Isley, Isley / arr. Ellis)
Ferris Wheel
Black Baby (Allen, Ellis)
Credits
Don Ellis – Trumpet, Fluglehorn
Patti Allen – Vocals
The Blossoms – Vocals
John Klemmer – Tenor Sax, Flute
Hadley Caliman – Flute, Tenor Sax
Mike Altschul – Clarinet, Flute, Baritone Sax
Fred Seldon – Clarinet, Flute, Alto Sax, Soprano Sax
Lonnie Shetter – Clarinet, Flute, Oboe, Alto Sax, Soprano Sax
Sam Falzone – Clarinet, Flute, Tenor Sax
Doug Bixby – Tuba
Stuart Blumberg – Trumpet, Flugelhorn
John Rosenberg – Trumpet, Flugelhorn
Glenn Stuart – Trumpet, Flugelhorn
Jack Coan – Trumpet, Flugelhorn
Jack Ellis – Trombone
Glen Ferris – Trombone
Jay Graydon – Guitar
Dana Hughes – Bass Trombone
Ralph Humphrey – Percussion, Drums, Vibraphone
Jo Julian – Bass
Carol Kaye – Bass
Lee Pastora – Percussion, Bongos, Conga
Rick Quintinal – Percussion, Drums, Vibraphone
Peter Robinson – Piano, Electric Piano
Liner Notes
A transcription of the first measure of "Bulgarian Bulge" appears under a hand-written heading labeled "Liner Notes:" – no text is provided.
Releases
Columbia CS 9889 (1969)
Although Ellis had flirted with rock elements in his previous big band releases, The New Don Ellis Band Goes Underground (1969) announced a full embrace of a more popular style. The album features vocalist Patti Allen and the vocal group The Blossoms on various selections, including Ellis's arrangement of "It's Your Thing" by The Isley Brothers.
Rock elements manifest themselves through the pop-oriented arrangements, typically featuring a rock-style beat in 4/4 and radio-friendly lengths of 3-4 minutes. The only selection on the release featuring exotic rhythms is "Bulgarian Bulge," Ellis's arrangement of a Bulgarian folk song in an extremely fast 33/8. Ellis
Your Thing."
The New Don Ellis Band Goes Underground is strikingly inconsistent with the adjacent Ellis Orchestra releases. However, the recording foreshadows Ellis's commercialized approach to selections appearing on several of his later recordings. The apparent contradiction suggests the influence of sales-driven executives within Columbia Records.
After the release of The New Don Ellis Band Goes Underground, Ellis continued to implement some degree of an electronic/rock approach into his performances and recordings. Ellis even suggests in one of his books that stylistically, rock-style drumming – rather than jazz drumming – was more appropriate to prominently displaying his complex rhythms through the emphasis and the clarity of the diaphragms over the textural wash of the ride cymbals:
"[ . . . ] in bebop the sound went to the cymbals, in rock music (although the cymbals are still used) the opposite has happened, and the basic patterns have gone back to the drums [ . . . ] cymbals give no definition of time and merely add a blanket to the overall sound. So the burden of time-keeping has now come back to the snare and bass drums. This also gives it a more solid rhythmic feel. For anyone who likes to swing hard, I think this is a definite step in the right direction."
By 1970, Ellis's crossover into the rock domain earned his ensemble appearances with the popular rock bands "United States Of America" and Frank Zappa's "The Mothers Of Inventions." This rock approach extended beyond the music of Ellis's act and into the visual element of their live performances including their wardrobe. According to one witness, "The band is outfitted by a local hip clothing store and they all wear velvet-satin puff-sleeve affairs with white turtlenecks beneath. To see them alone is an experience."